Evergreen, Colorado is aptly named. Located within Jefferson County, the idyllic mountain town is blessed with a plethora of open space. With open space comes recreation, and – thanks to Jeffco Open Space and Denver Mountain Parks – Evergreen's visitors and residents have a multitude of outdoor recreation opportunities.
Found both in and surrounding Evergreen, the Jeffco Open Space system consists of 54,000 acres of protected land, 29 parks and 236 miles of multi-use trails. For over 40 years Jeffco has dedicated its time and resources to saving land and maintaining trails in Jefferson County.
With so many magnificent parks and open space, it's difficult to choose favorites. The following parks, however, are some of the best Evergreen has to offer.
Elk Meadow Park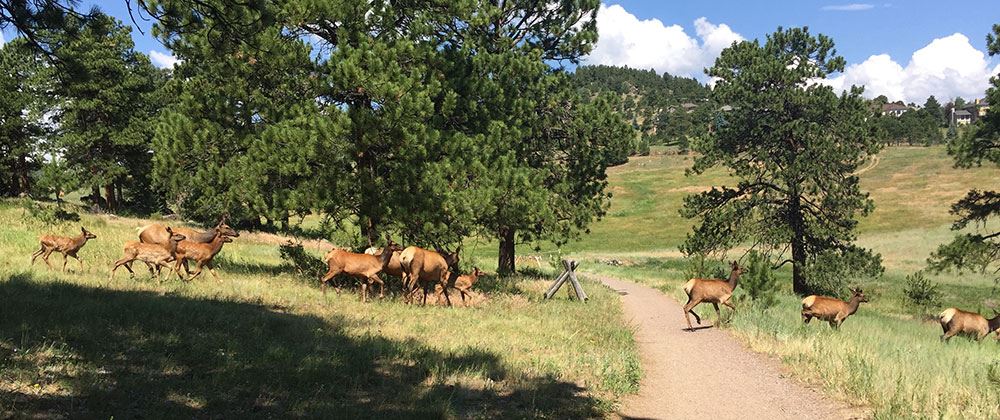 Known for the wild herds of elk that graze its open space and the wildflowers that bloom in the spring and summer, Elk Meadow Park encompasses 1,475 acres and has 14.5 miles of diverse trails. Visitors are welcome to hike, bike and horseback throughout the park from sunrise until one hour after sunset.
For a challenge, hikers can tackle the 4.7-mile hike from the Stagecoach Boulevard trailhead to the 9,708-foot Bergen Peak – an elevation gain of 2,100 feet. For those more inclined to stroll, there is an easy 4.2-mile loop trail that only gains 551 feet of elevation.
Elk Meadow Stagecoach Trailhead 
32281 Stagecoach Boulevard
Evergreen, CO 80439
3.7 miles from Greystone
Elk Meadow Lewis Ridge Trailhead
2855 Bergen Peak Drive
Evergreen, CO 80439
5.3 miles from Greystone
Learn more at Elk Meadow Park.
Alderfer/Three Sisters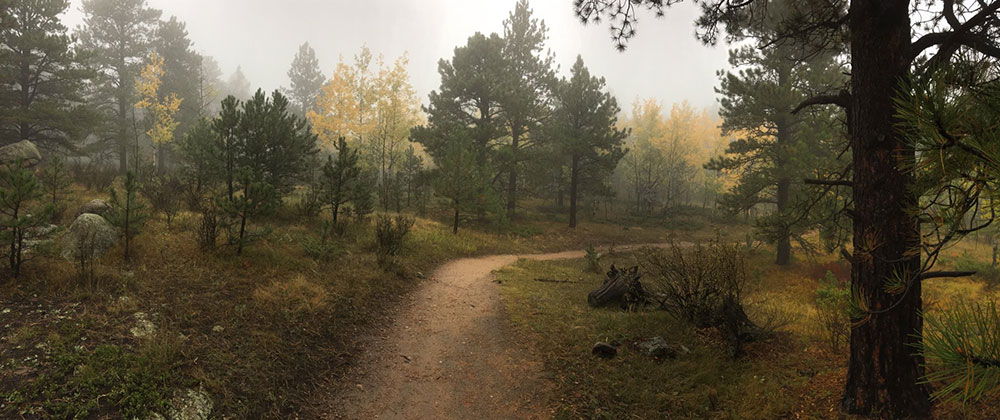 Located in the southwest corner of Evergreen, the Alderfer/Three sisters park has a little bit of something for everyone. From biking trails to climbing spots, easy strolls and a long loop hike to difficult climbs, the views can't be beat. The park features stunning vistas, views of the Continental Divide, interesting rock formations, acres of ponderosa pine, Steller's jays and Cooper's hawks. For endless panoramic views, take a hike to Brother's Lookout and soak up the sights.
With 15.3 miles of trails over 1,127 acres the network can be confusing; picking up a trail map is highly recommended.
Alderfer/Three Sisters West Trailhead
5136 South Le Masters Road
Evergreen, CO 80439
9 miles from Greystone
Alderfer/Three Sisters East Trailhead
30357 Buffalo Park Road
Evergreen, CO 80439
8 miles from Greystone
Learn more at Alderfer/Three Sisters Park.
Hiwan Heritage Park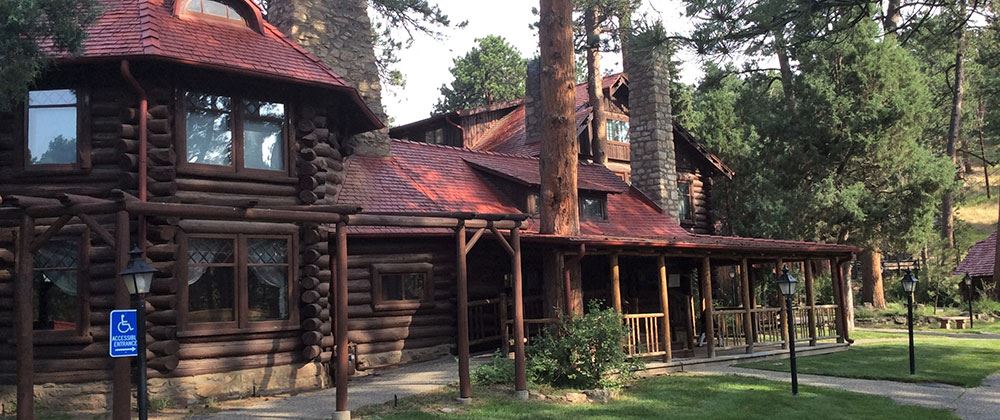 More a living piece of history than a traditional park, the Hiwan Heritage Park is centered around a classic Colorado rustic log cabin. Originally a one-room cabin constructed in 1893, the lodge is now a 25-room museum that displays its original historic furnishings and Native American art. Officially listed in the National Register of Historic Places in 1974, the museum provides tours and hosts educational programs throughout the year.
The museum sits on four acres of preserved land ripe for exploration. There are even picnic areas where guests can sit, eat and take in a little bit of history while surrounded by nature.
Hiwan Heritage Park
28473 Meadow Drive
Evergreen, CO 80439
6 miles from Greystone
Hiwan Museum
Closed Monday
Tuesday – Friday: Noon – 4:00 p.m.
Saturday & Sunday: Noon – 4:30 p.m.
Learn more at Hiwan Heritage Park.
Dedisse Park
A part of the Denver Mountain Parks network, Dedisse Park is Evergreen's signature park. Acquired in 1919, the park is known for its 65-acre Evergreen Lake and Lakehouse, which are popular with locals and visitors alike. This 420-acre park also includes the Evergreen Golf Course and the Evergreen Nature Center. In the northern section of the park, guest will find a more typical park area with forested hillsides and picnic facilities.
Just west of the golf course, the park connects to the Alderfer/Three Sisters Park via the 5.9-mile Dedisse trail. With a gain in elevation of only 700 feet, this trail makes it easy to visit both parks in one day.
Dedisse Park
29200 Upper Bear Creek Rd.
Evergreen, CO 80439
5.5 miles from Greystone
Learn more at Dedisse Park.
Cross-Country Skiing and Winter Hikes
To the delight of winter enthusiasts, there are a few places around Evergreen perfect for snowshoeing and cross-country skiing. One such place is Chief Mountain (10.6 miles from Greystone), which provides three miles of out-and-back trail for snowshoed-hikers and experienced cross-country skiers. Elk Meadow Park (5.3 miles from Greystone) has something for everyone with a variety of trails accessible to every skill level. For those looking for a guided tour, the Evergreen Park and Recreation District leads snowshoeing and cross-country skiing trips from its Wulf Recreation Center (7.4 miles from Greystone).