Greystone has a unique and fascinating history. Explore the distinctive eras of Greystone's history from 1914 to the present.
The Era of Genevieve Chandler Phipps 1914 – 1939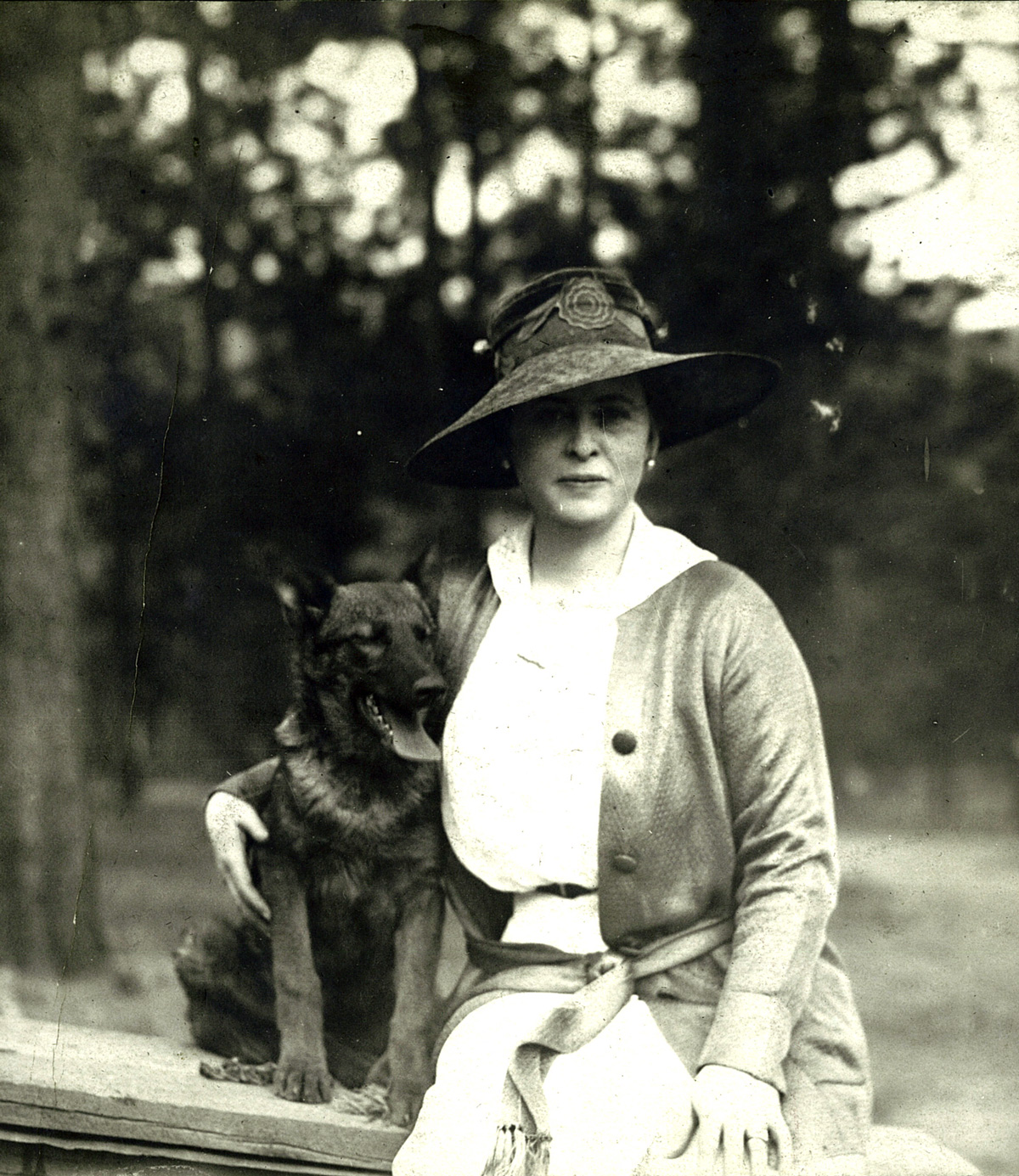 Genevieve Chandler Phipps was dubbed a "titian-haired" beauty with a voluptuous figure and bright turquoise eyes. Married at 18 and divorced by 25, she was a prominent Denver socialite, circulating with only the city's elite and often seen driving in a luxurious 1914 Model 34 Marmon automobile, custom painted the identical auburn hue of her hair color. Credit: Roberts Family Collection
In 1914 at age 34, wealthy Genevieve Chandler Phipps purchased 1000 acres on Upper Bear Creek which would become the Greystone estate. Construction began on her new home in 1916. To accomplish what she envisioned, Genevieve stayed on site to supervise in a canvas tent adorned with Oriental rugs and antique furniture.
Construction was completed in 1917. She often entertained through the 1920s Prohibition Era with elaborate weekend parties and highly formal luncheons. With 12,000 square feet of living space in the Manor, in addition to several guest houses and servant quarters, prominent guests such as Utah mining millionaire, Samuel Newhouse and wife Ida, often stayed a week or more.
When Genevieve Chandler Phipps died in 1931, her daughters jointly inherited the estate. Their husbands, Donald Bromfield and Van Holt Garrett, had for years partnered the prestigious Garrett Bromfield Real Estate Company located in downtown Denver. Through their husbands' firm, the women decided in 1938, it was time to sell. Read more.
The Era of Elmer and Peg Wilfley 1939 – 1946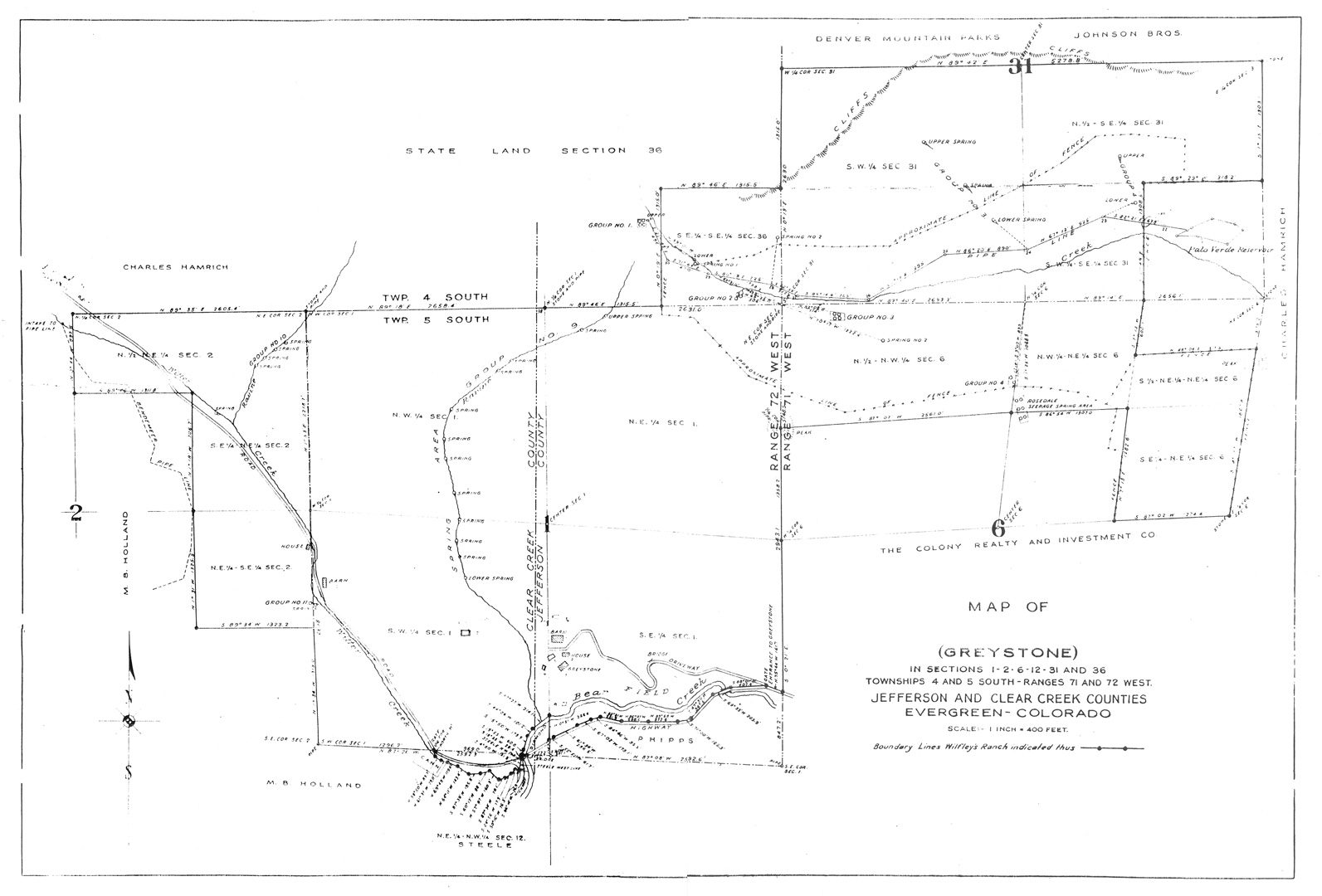 Greystone survey map. Elmer purchased the adjacent Mayo Ranch and grew Greystone to over 1250 acres for 90 head of cattle and 6 horses. Survey Map Courtesy Sandifer Family Collection
Elmer and Peg Wilfley purchased Greystone in August 1939. Elmer had dual intentions for his new estate – a working cattle ranch and a relaxing family haven. He purchased the adjacent Mayo Ranch and grew Greystone to over 1200 acres for 90 head of cattle and 6 horses.
By 1946 Peggy and Elmer's children had families of their own and were unable to visit the estate as frequently. Sadly the decision was made to sell. But before Greystone could be listed, a prominent couple from Georgia happened upon Elmer while he was relaxing on his front porch. Lt. Colonel William Sandifer and wife Sadie were considering purchasing property neighboring Greystone and had driven up the Greystone drive on a neighborhood exploration. Within hours, Greystone was under contract for sale. Read more.
The Era of William and Sadie Sandifer 1946 – 1981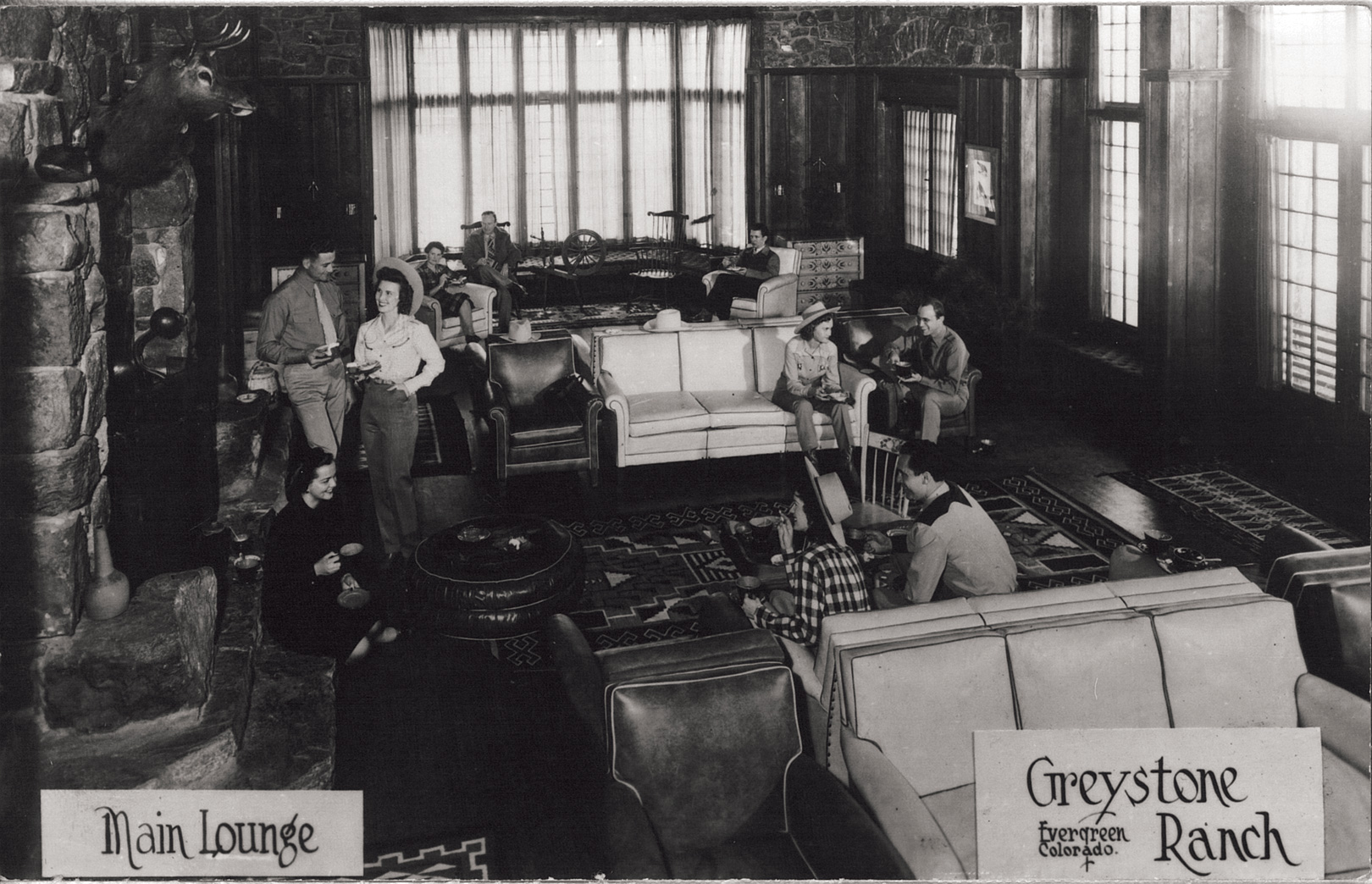 Greystone Ranch postcard of the main lounge in the Manor House. Each evening before dinner, guests congregated before the crackling fire to reminisce about their day on the ranch. Credit: Sandifer Family Collection
The couple from Georgia, Lt. Colonel William R. Sandifer and his wife Sadie, envisioned Greystone from the beginning to be a luxurious guest ranch. Sandifer became a self-made man known for his renowned engineering of the Empire State Building in New York City and the American Embassy in Tokyo. His wife Sadie, a woman of wealth from Deep South Alabama and first cousin to Lady Bird Johnson, was well accustomed to posh entertaining.
During the Sandifer Era, Greystone was subdivided three times. In the 1950's, with his parents' blessing, Bill Jr. subdivided 250 acres which became Greystone Lazy Acres. Then in the 1970's, acting on his parents' behalf, Bill Jr. sold 200 acres, which became Greystone Estates. At a later date, Bill Jr. and Marilyn, with children of their own, subdivided the remaining 800 acres and built a modest home and stables for their Arabian horses on 745 acres, leaving 55 acres remaining of the original Greystone Estate. Read more.
The Eras of Smith and Peterson 1981 – 1992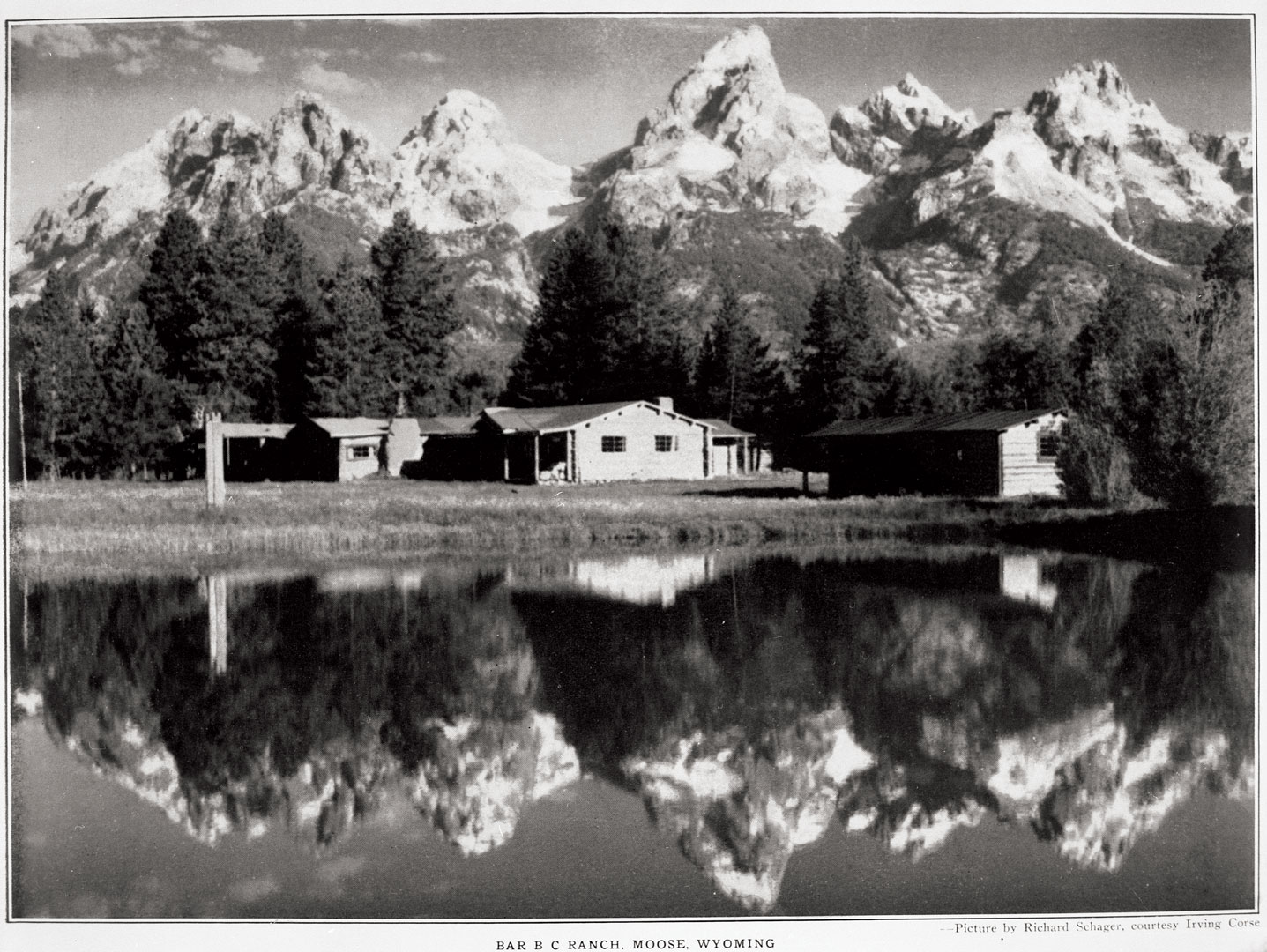 The legendary Bar BC Ranch in Jackson Hole, Wyoming, established by famous author and Princeton educated Maxwell Struthers Burt in 1912. In 1928 Burt purchased a 300 acre ranch, twenty miles north of the Bar BC, named the Three Rivers Ranch, from which the Historic Log Cabin was moved to its present home at Greystone. Credit: Jackson Hole Historical Society, #1996.005.001
Warren and Margery Burt Smith bought Greystone Estate in 1981, one year before the Burt family's 50-year lease expired from the National Park Service on their ranch in Jackson, Wyoming. Assumedly, the Smith's worked out an arrangment with the National Park Service, because shortly after moving to Greystone, an original log cabin from the Bar BC Ranch was permanently placed on the property. The cabin, no doubt, was to pay homage to Margery's dude ranching heritage.
In 1987, Warren voluntarily filed for bankruptcy and Greystone was for sale in 1989. An Evergreen/Denver bachelor, Jerry Peterson, fell in love with Greystone and purchased it in 1991.
Greystone was then sold to Richard and Pamela Bard in 1992. Read more.
The Era of Richard and Pamela Bard 1992 – Present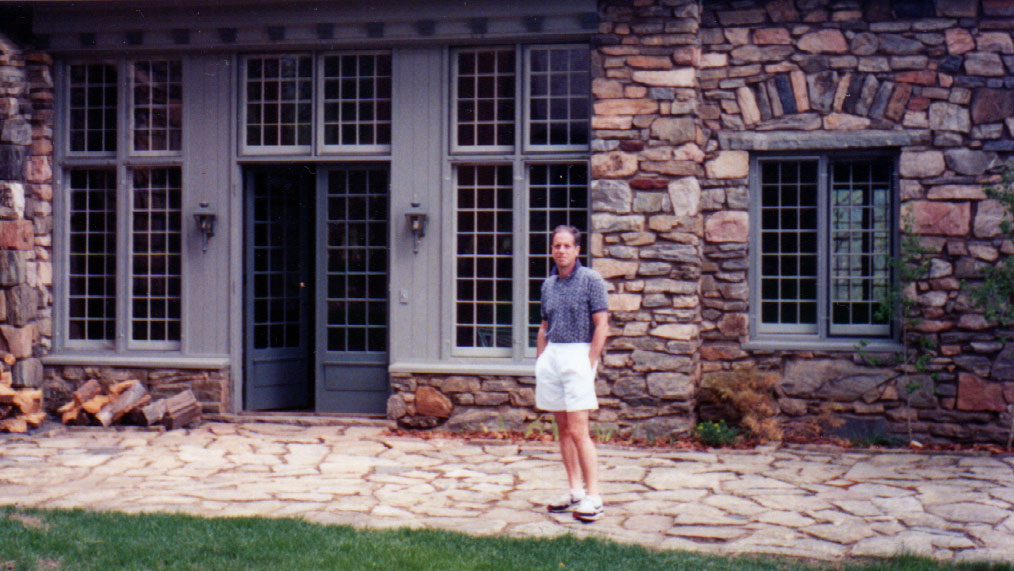 May 1992. Richard Bard stands on the side patio admiring his recent purchase.
In the spring of 1992, after selling their Denver country club home, Richard and Pamela Bard found in Greystone exactly what they had been looking for in a one-of-a-kind estate. Shortly after purchasing it, they set out with plans for renovating the entire property.
The Bards knew that they had an extensive amount of work ahead of them in order to turn Greystone into what they envisioned, restoring the historic charm and grandeur of the "castle in the woods" while updating it to a state-of-the-art modern dwelling. Most of the buildings on the estate remained unchanged since their original construction in 1916. Read more.